Our new student placements have just begun! Learn more about our student physiotherapists below:
Natalie Marshall
Student Physiotherapist
Natalie Marshall is a student physiotherapist completing her last placement in the MPT program here at UBC. Before entering the program, Natalie completed her undergraduate degree in Kinesiology at the University of Western Ontario and then worked as a kinesiologist at two outpatient physiotherapy clinics.
Natalie grew up on the North Shore playing soccer and volleyball competitively and was first introduced to the physiotherapy profession in high school when she experienced a series of ankle and knee injuries and sought out a physio in order to return to sport. Nowadays, she enjoys cycling, skiing, running and hiking – anything to be outside!
Natalie's experience as a kinesiologist in an outpatient orthopaedic and neuro setting has given her a unique ability to cater exercises to the patient in front of her. Her previous placements have been a mix of inpatient acute and outpatient settings, working with a variety of populations including acquired brain injury, critical care, acute orthopedic, and outpatient musculoskeletal injuries. She is passionate about delivering patient-centered care and making her assessment and treatment meaningful to the patient. She is keen to help patients get back to doing what they love.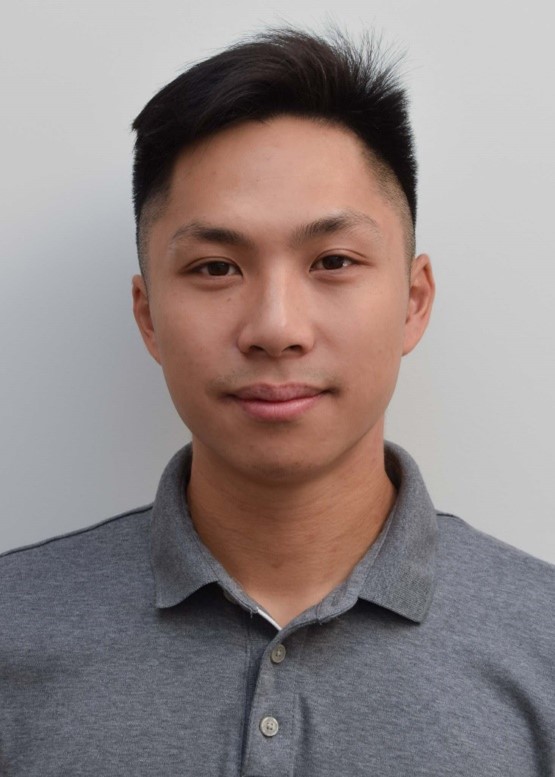 Chris Tong
Student Physiotherapist
Chris is currently a second-year physical therapy student at UBC and PTRC will be his 6th and final placement before graduation in November 2023. Prior to physical therapy, he graduated with a Bachelor of Kinesiology from UBC in 2021.
Chris began pursuing physical therapy after an elbow injury in high school resulted in elbow reconstruction surgery and many months of outpatient physical therapy. Having been a patient himself, he possesses an understanding of both sides of a successful therapeutic relationship. Through this experience, Chris also gained an appreciation for the important role that physical therapists play in helping clients return to their day-to-day activities and empowering them to adopt active lifestyles.
To date, Chris has worked with a variety of clinical populations including post-surgical, geriatric, neurological, vestibular, TMJ, concussion, and general musculoskeletal. Prior to physio, Chris worked as a personal trainer, group exercise instructor, and support worker for children with autism spectrum disorder.
In his free time, Chris loves to watch, talk, and play sports, particularly basketball, hockey, and soccer. He's a lifelong Canucks fan and has recently taken an interest in the Whitecaps as well. He also enjoys nature, the outdoors, and landscape photography.
Ernest Lo
Student Physiotherapist
Ernest is a second-year physical therapy student at UBC who has obtained his Orthopaedic Division Level 1 Certification. Prior to this, he completed his Bachelor of Kinesiology degree at UBC in 2021. He has experience working with a variety of populations in various clinical settings since his undergrad degree.
Ernest has been heavily involved in sports and physical activity since childhood. He has been part of several competitive and recreational sports teams, including track and field, basketball, volleyball, ultimate frisbee, and tennis. Currently, Ernest strives for opportunities to be involved with sports recreationally, while participating in regular weight training.
Ernest has a passion in connecting with people. He uses a client-centred approach in his practice, where clients determine the goals they hope to achieve, and the therapist provides assistance where necessary. Ernest believes that every person has a great capacity, and is excited to work at the PTRC to help clients maximize their potential.
Angus Tse
Student Physiotherapist
Angus is a second-year physical therapy student at UBC. Before joining the MPT program, Angus completed his Bachelor of Commerce in 2019 and Bachelor of Kinesiology in 2021. During his undergraduate years he worked as a personal trainer, taught group exercise classes at UBC Bodyworks, and taught fall prevention classes for the aging population.
Angus has a passion for exercise and movement and empowers his clients by giving them the tools they need to regain their mobility and reach their goals. During his free time, Angus likes to partake in a variety of sports such as badminton, spike ball, bouldering, Krav Maga, callisthenics, and weightlifting. Angus' experience in sports has led to many injuries and helped develop an understanding of the importance of physical therapy.