Sally Stelling
Physiotherapist
Sally is working as a Physiotherapist for the Brain Wellness Program at UBC and the UBC Physical Therapy and Research Clinic.
Sally graduated with a degree in Physiotherapy from the University of Pretoria in 2000 and has since worked in South Africa, Scotland and Canada. She has worked in public health and private practice and has experience working in acute care, long-term rehabilitation and outpatient settings. She has worked in neurological rehabilitation, orthopaedics, paediatrics, women's health, sports injuries and geriatrics. Sally has completed several post-graduate courses and certifications including Neurodevelopmental Therapy (NDT), Anatomical Acupuncture (AFCI), a certificate in Orthpaedic Medicine (OMI), Pelvic Floor Rehabilitation, Myofascial release, Allied Team Training in Parkinson's (ATTP) and evidence-based Breast Cancer Rehabilitation.
Sally is passionate about helping people function to the best of their ability, facilitating and improving functional movement and assisting people in reaching their goals. The role of exercise in brain wellness, neuroplasticity and cancer recovery is of particular interest to Sally.
Gavin Tonkin
Physiotherapist
Gavin is a practicing physiotherapist, having recently graduated from the UBC Masters of Physical Therapy (MPT) Program. Before the MPT program, Gavin graduated with his bachelor's and a postgraduate degree in exercise science from the Australian Catholic University in Melbourne. This original degree allowed Gavin to work as an exercise physiologist for several years. During this time, Gavin gained experience working in sub-acute care at a hospital in Melbourne and with high-level sports teams. Gavin has been in Vancouver for over 8 years during which time he worked as a kinesiologist at several private physiotherapy clinics predominantly seeing patients with orthopedic and neurological conditions.
During his time in the MPT program, Gavin developed an interest in how psychological and social factors contribute to an individual's injury or illness. Gavin enjoys working with individuals to find out how we can best mitigate those factors to help clients reach their goals.
In his spare time, Gavin enjoys discovering what BC has to offer on pedal, foot, or rope and harness. He also enjoys spending time with his growing family and going on walks with his dog.
Charlie Chua
Physiotherapist
Charlie is a fully licenced physiotherapist who we are lucky to have returned to the PTRC! Before embarking on his Physical Therapy degree, Charlie completed his Bachelor's in Kinesiology at UBC. During his undergraduate program, Charlie gained experience working with various clinical populations both as a fitness instructor at the UBC Bodyworks gym and as a volunteer at the Rocksteady Boxing program. He is also a certified Krav Maga Global self-defence instructor and currently teaches during his spare time.
Charlie is a lifelong athlete and enjoys playing a variety of different sports including rugby, hockey, soccer and combat sports. He also served 2-years in the Singapore Armed Forces as an officer in the military as part of his conscription duties. Throughout his journey in sports and in the military, Charlie has experienced many injuries and saw the importance of exceptional Physical Therapy and the impact it had on improving overall function and outlook. As a physical therapist, Charlie aims to empower his clients through exercise and movement to help them achieve their goals.
Ashley Jestin
Physiotherapist
Ashley is a physiotherapist with a passion for strength training, cycling, yoga, and outdoor adventures. Before doing her master's degree in physiotherapy, she completed a bachelor's degree in kinesiology. Ashley has been teaching trauma-informed meditation and yoga for nearly a decade which led her to engage with clients with a person-centred, biopsychosocial approach.
As a physiotherapist, Ashley offers a psychologically informed approach to treatment by drawing on my knowledge of pain science and emphasizing the role of the nervous system in rehabilitation. Ashley practices evidence-based physiotherapy services and is constantly advancing her knowledge by reading the latest research in the field. With an emphasis on active rehab, Ashley provides treatments that will help you get back to the activities you love.
Gursevak Powar
Physiotherapist
Gursevak graduated from Simon Fraser University with a Bachelor of Science degree in Kinesiology, and a concentration in Active Health and Rehabilitation. While completing his undergraduate studies, he gained a passion for strength training and exercise, which eventually led him to complete the Master of Physical Therapy program at the University of British Columbia. Gursevak has obtained his Functional Movement Screen and Orthopaedic Division Level 1 certifications and is excited to bring his experience and expertise to the UBC Physical Therapy and Research Clinic.
Gursevak understands the importance of active and empathic listening and always takes the time to learn about a client's specific injuries, preferences, and goals in order to support them through the rehabilitation process. He believes communicating effectively and building connections with clients is a fundamental part of being a physical therapist. Gursevak enjoys volunteering in his community and works with the New Westminster Hyacks football team where he assists with various on-field injuries. Gursevak is committed to pursuing an active lifestyle and can be found in weight training, hiking, or swimming in his spare time.
Current Students
Natalie Marshall
Student Physiotherapist
Natalie Marshall is a student physiotherapist completing her last placement in the MPT program here at UBC. Before entering the program, Natalie completed her undergraduate degree in Kinesiology at the University of Western Ontario and then worked as a kinesiologist at two outpatient physiotherapy clinics.
Natalie grew up on the North Shore playing soccer and volleyball competitively and was first introduced to the physiotherapy profession in high school when she experienced a series of ankle and knee injuries and sought out a physio in order to return to sport. Nowadays, she enjoys cycling, skiing, running and hiking – anything to be outside!
Natalie's experience as a kinesiologist in an outpatient orthopaedic and neuro setting has given her a unique ability to cater exercises to the patient in front of her. Her previous placements have been a mix of inpatient acute and outpatient settings, working with a variety of populations including acquired brain injury, critical care, acute orthopedic, and outpatient musculoskeletal injuries. She is passionate about delivering patient-centered care and making her assessment and treatment meaningful to the patient. She is keen to help patients get back to doing what they love.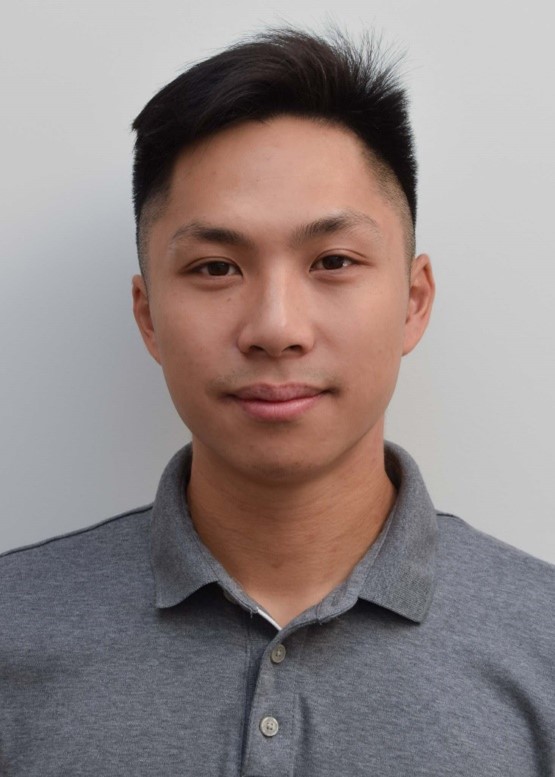 Chris Tong
Student Physiotherapist
Chris is currently a second-year physical therapy student at UBC and PTRC will be his 6th and final placement before graduation in November 2023. Prior to physical therapy, he graduated with a Bachelor of Kinesiology from UBC in 2021.
Chris began pursuing physical therapy after an elbow injury in high school resulted in elbow reconstruction surgery and many months of outpatient physical therapy. Having been a patient himself, he possesses an understanding of both sides of a successful therapeutic relationship. Through this experience, Chris also gained an appreciation for the important role that physical therapists play in helping clients return to their day-to-day activities and empowering them to adopt active lifestyles.
To date, Chris has worked with a variety of clinical populations including post-surgical, geriatric, neurological, vestibular, TMJ, concussion, and general musculoskeletal. Prior to physio, Chris worked as a personal trainer, group exercise instructor, and support worker for children with autism spectrum disorder.
In his free time, Chris loves to watch, talk, and play sports, particularly basketball, hockey, and soccer. He's a lifelong Canucks fan and has recently taken an interest in the Whitecaps as well. He also enjoys nature, the outdoors, and landscape photography.
Ernest Lo
Student Physiotherapist
Ernest is a second-year physical therapy student at UBC who has obtained his Orthopaedic Division Level 1 Certification. Prior to this, he completed his Bachelor of Kinesiology degree at UBC in 2021. He has experience working with a variety of populations in various clinical settings since his undergrad degree.
Ernest has been heavily involved in sports and physical activity since childhood. He has been part of several competitive and recreational sports teams, including track and field, basketball, volleyball, ultimate frisbee, and tennis. Currently, Ernest strives for opportunities to be involved with sports recreationally, while participating in regular weight training.
Ernest has a passion in connecting with people. He uses a client-centred approach in his practice, where clients determine the goals they hope to achieve, and the therapist provides assistance where necessary. Ernest believes that every person has a great capacity, and is excited to work at the PTRC to help clients maximize their potential.
Angus Tse
Student Physiotherapist
Angus is a second-year physical therapy student at UBC. Before joining the MPT program, Angus completed his Bachelor of Commerce in 2019 and Bachelor of Kinesiology in 2021. During his undergraduate years he worked as a personal trainer, taught group exercise classes at UBC Bodyworks, and taught fall prevention classes for the aging population.
Angus has a passion for exercise and movement and empowers his clients by giving them the tools they need to regain their mobility and reach their goals. During his free time, Angus likes to partake in a variety of sports such as badminton, spike ball, bouldering, Krav Maga, callisthenics, and weightlifting. Angus' experience in sports has led to many injuries and helped develop an understanding of the importance of physical therapy.